Feb 06
9
It has been many years since I last did Ashara out of Moula's (TUS) hazrat. I had been preparing to go for Ashara khidmat when it was announced that no one was to go to Mumbai. I didn't get a chance to go for waaz and also was tempted not to go to Mumbai, don't know why. My good friends did offer me accomodation at their place and I am thankful to them, but I just didn't want to go.
Well, this was the first time I was in Sharjah during Ashara and it was not anything like when you are doing Ashara with Moula (TUS). I did make up my mind and plungged into khidmat here. Here the IT Committee that was formed some 3 years back had now changed with many people coming in and an additional department to look after, the sound system – along with the relay. There was a lot of work and everything needed to be streamlined. People are new and need to be handled with care. I was a bit rough at times and that is a problem that I faced while handling the job.
As for everywhere our committee was no exception, I would like to quote a friend of mine, "There are too many Chiefs and no Indians". It is hard for a person who is in lead to tell a programmer to go sit and do data entry, but someone had to do it. I did try and set an example as I went on but did it work or not is not yet clear.
We did do a good job as a team. There are many people who work hard and as volunteers they need applaud. I am very much thankful to our Amil Saheb Qusai Bs Jamaluddin for supporting us as a committee by not only backing our plans but financially making us fit. The one thing everyone on the team appreciated was that on the day of Ashura, during the maqtal, he mentioned our team with a lot on emphasis and priority. He said that "The one group he would especially want to mention are those who are behind the curtains and are not seen in public…these are the IT Committee."
We all had a great feeling that each and everyday we had listened to Moula (TUS) and we done deedar. All because of the technology that is meant to serve our faith and our Moula (TUS). 2 waaz relayed through sattelite and one waaz 65 minutes video recording. Azeem Nemat. On the eve of Ashura we listened to the live kalemaat of Moula (TUS) for 30 Minutes and then Moula's paighaam for 15 Minutes. On Ashura another recording in which Mola (TUS) councelled Mumineen. May Allah bless him with a long life.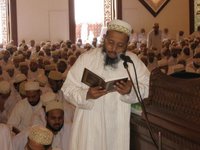 After about 5 years or so I was to deliver the bayan bayn al-Salatain on Ashura. I had been doing little preparations and had jotted a few points to mention in the wasila. I would like you, my reader, to know that it is the most difficult and easy of all tasks to make people weep on Imam Husain (AS). I was shivering before I stood up and it was not the first time I have spoken in public. I am used to it. But this time was unique. I just wished from my inner most part that Mola (TUS) bless me to fullfil his khidmat. As I stood next to the thakt and started the wasila the fear vanished. The fear was not what is called stage fear but of properly doing my part of Khidmat. I felt as if I was lifted in air as soon as I started. Al-Hamdolillah, by the dua of Moula (TUS) and his nazaraat it was a piece of cake.
I felt much relaxed after the wasila and now as I listen to the recording I feel that I could not have ever done it were it not for the sake of Imam Husain (AS) and his Dai (TUS).
Apart from all this, its so relaxing that Mustafa bhai, who was in portugal for waaz, both of us co-ordinated the reflections though we could not finish all of them but atleast we did some of it through the internet. The most incredible thing was that we were miles and miles away from the venue and alhamdolillah it was a great achievement and both Mustafa's niyat and mine took good shape. Qusai Bs also helped print and distribute the reflections in Sharjah and asked Shz Saheb to be distributed in Dubai too.